Archives for August 2011
June 18, 2011, Saturday 3:00 p.m.
Location: Milesburg Presbyterian Church(Social Hall)
103 Turnpike Street, Milesburg, PA
Approximately 4 million cats end up in shelters every year, including thousands born every spring and summer during "kitten season." To help promote adoptions of these fun, affectionate animals, American Humane celebrates Adopt-A-Cat Month each June. Read more.
Saturday, May 28th – 10am – 12:00 noon
Fairbrook United Methodist Church
4201 W. Whitehall Rd
Pennsylvania Furnace, PA, 16865
Vet – Metzger Animal Hospital

Saturday, May 7th – 9am – 1pm
Nittany Valley Feed and Hardware Store
814-355-4930
1169 Nittany Valley Dr
Bellefonte, PA 16823
Vet – Kolbrooks Veterinary Clinic
May 2 to 8, 2010 is Be Kind to Animals Week
Join the event that's been celebrated every year since 1915 – American Humane's Be Kind to Animals Week. In this annual tradition, we commemorate the role animals play in our lives, promote ways to continue to treat them humanely, and encourage others, especially children, to do the same
April is Animal Cruelty/Human Violence Awareness Week
The Humane Society of the United States (HSUS) launched the First Strike® campaign in 1997 to raise public and professional awareness about the connection between animal cruelty and human violence. Through the campaign, The HSUS encourages everyone to take animal cruelty seriously.
February 26, 2011
PCF is working in partnership with Amend PA Humane Enforcement (APHE) in educating the public on animal neglect & cruelty laws.
Calling All Animal Lovers — We Need The Public's Help! On Saturday, February 26, 2011 at 1:00 p.m., please join us at the APHE Animal Cruelty Seminar


PCF is working in partnership with APHE in educating the public on animal neglect & cruelty laws.  These laws are minimally enforced in many places in Pennsylvania, especially our rural areas.
Location:  Pisgah Presbyterian Church
36 Church Street Corsica, PA
Who Are YOU Going to Call?
Act TODAY so that THEIR Tomorrows will be better
Animal neglect & cruelty laws are minimally enforced in many places in Pennsylvania, especially our rural areas. Shelters can not afford to hire agents, they are non-profit organizations. Humane Officers are being laid off. Local and State Police are not trained, nor have the facilities to take in needy animals.
We Need the Public's Help!
Amend PA Humane Enforcement (APHE) is a diverse group of individuals, e.g. humane officers, private rescues, shelters, and private citizens, who truly care about the health and welfare of the non-human animals that reside within the Commonwealth of Pennsylvania. We are dedicated to amending 5511 specifically as it relates to the training and hiring of humane officers so that the enforcement of 5511 will become uniform statewide and all complaints of animal abuse and neglect will be housed in a central data base so that their disposition can be tracked, thereby, ensuring accountability.
APHE wants to introduce a bill that to include the following:
1. PLACE HUMANE OFFICERS UNDER STATE POLICE
2. TRAINING TO INCLUDE ACT 120 PLUS ANIMAL SPECIFIC TRAINING
3. STATE REPOSITORY FOR ALL ANTI-CRUELTY CALLS WITH ALL LAW ENFORCEMENT HAVING ACCESS
4. SIX STATE SHELTERS TO HOUSE SEIZED ANIMALS AND STRAYS
5. FUNDED BY ONE CENT SALES TAX ON PET PRODUCT
Calling all Animal Lovers
SEND A PERSONAL LETTER TO YOUR PENNSYLVANIA STATE REPRESENTATIVES : http://www.legis.state.pa.us/cfdocs/legis/home
/findyourlegislator/index.cfm?CFID=35997325&CFTOKEN=54286493
TELL THEM THAT LEGISLATION WILL BE INTRODUCED SHORTLY THAT WILL INCLUDE THE ABOVE AND THAT YOU AS A VOTER WOULD WOULD GREATLY APPRECIATE IT IF HE/SHE WOULD SUPPORT THE MUCH NEEDED CHANGES. (DO NOT SEND A FAX)
For more information or how you and/or your organization can get involved: http://amendpahumaneenforcement.weebly.com
Febuary 14 is National Pet Theft Awareness Day
Last Chance for Animals (LCA), a national, nonprofit animal protection organization, invites you to participate in a national campaign aimed at raising public awareness of a threatening epidemic – pet theft. Nearly two million companion animals are stolen each year. Some are taken under false pretense through "free to a good home" ads, abducted from their yards, or are taken from humane shelters through a practice called pound seizure. These animals are then sold to research laboratories, dog-fighting rings, or puppy mills, where they are abused and often killed. Read more.
We have good news, and we have bad news. Which would you like to hear first?
Here's the bad news: As of January 1, 2012, the Pennsylvania SPCA will be closing its Centre Hall branch. It would be devastating to the community to lose this shelter that takes in homeless pets including dogs, cats, horses, pot-bellied pigs, goats, bunnies…basically any pet in need. Without a shelter, the fate of unwanted and stray animals would be uncertain, at best.
So, ready for the good news? Pets Come First (PCF), a local non-profit group, has just signed a lease to take over the facility as of January 1, 2012. PCF, an all-volunteer organization, has already effected many changes at the Centre Hall SPCA since 2002, transforming it from a shelter with an 87% euthanasia rate to a no-kill facility where every adoptable pet is given a fair chance to find a new home.
Pets Come First has two main focuses: spaying/neutering and finding homes for homeless animals. Taking over the shelter will help PCF advance both of its goals. Plans call for having the shelter open for adoptions four days a week instead of the present seven days. The other three days would be used for taking in animals, transporting them to local vets for medical care, evaluating behavior, and training. The facility will give PCF a place to house and show pets available for adoption and will also serve as a base for PCF's long term spay/neuter assistance program and low cost clinics. In 2009 PCF worked in partnership with the Hundred Cat Foundation (HCF) to develop a trap/neuter/release (TNR) program in Centre County; it currently leases the house on the property and will continue to do so, offering low cost feral TNR clinics.
PCF needs your support to be successful!
Since its inception, the Pennsylvania SPCA has relied solely on donations to keep it operating. The shelter receives no state or federal funding. The same will be true for Pets Come First; it will be dependent exclusively on community support.
So, how can you help? Donate money, materials, or time!To ensure that monetary donations benefit the local shelter and local animals, contributions must be made to Pets Come First, The New SPCA! by visiting www.petscomefirst.com or mailing your check directly to Pets Come First, The New SPCA!, P.O. Box 493, Lemont, PA 16851. (Any donations made payable to the PSPCA in either Philadelphia or Centre Hall will not support the takeover scheduled for January 1, 2012.)
Fundraising campaigns are under way to raise $250,000 needed annually to operate the shelter. If you or your organization is interested in raising funds for PCF, email info@petscomefirst.com. We have several projects in which the community can become involved. For details, visit www.petscomefirst.com and view our Home Page and Fundraiser Page.
Another way to support Pets Come First, The New SPCA! is by purchasing our new T-shirts. They are available for $25 each in two colors, kiwi or gray. Email info@petscomefirst.com, indicating quantity, size, color, and mailing address. Payment can be made either by mailing a check to Pets Come First, c/o Pets Come First, The New SPCA!, P.O. Box 493, Lemont, PA 16851, or by visiting www.petscomefirst.com and making payment via PayPal. Once payment is received, T-shirts will be mailed to you. Be sure to add an additional $5 for shipping each item.
Interested in volunteering? More volunteers are always welcome! Whether you can give an hour a week, an hour a month, or just an hour or two every once in a while, we can put you to work. Volunteers are needed to transport animals to the vet, clean cages, walk dogs, and temporarily house adoptable pets. 'Afraid you'll get too attached? Consider volunteering for off-site tasks. We need people to maintain the website and Facebook page, distribute lists of adoptable animals, and work at events. Visit www.petscomefirst.com and click on the Volunteer Page to signup online. Remember that until January 1, PCF does not have an actual facility; all PCF animals are in foster care. However, PCF is working in partnership with the SPCA to schedule volunteers as needed both at the Centre Hall shelter and with the PCF animals in foster care, so we ask for your patience during this transition time.
Interested in donating supplies? They are always needed and can be dropped off at the SPCA; however, before spending money on collars, leashes, or toys, please contact the shelter as food is always the main priority. (Preferred items: cat litter, 9 LivesTM cat food and dry kitten food, dog food, gas cards, cleaning supplies, gift cards to local stores…and, of course, cash)
It's going to take a lot of effort from a lot of volunteers, but PCF President Deb Warner says, "With your help, we remain strong in our commitment for this to be a successful transition. We will continue to work in partnership with other local rescues to provide monetary and voluntary resources to support and sponsor local animal programs within our community."
Dogs Deserve Better 2011 Valentines Day Event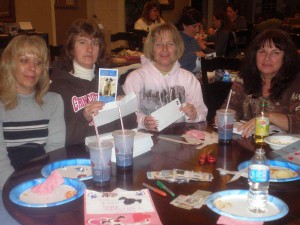 PCF volunteers along with other local rescues support DDB by sending Valentines to families of chained dogs pleaing for them to unchain their dogs. All Valentines are made by children in the local schools. From left to right, Kim, Patty, Brenda and Deb Warner.
Cats Rescued from Clarence Home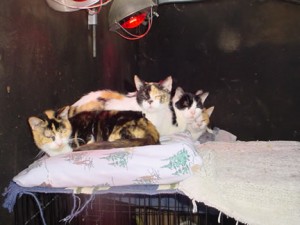 On January 22 at the Hundred Cat Foundation Clinic the cats were spayed and neutered, treated for fleas, vaccinated and tested negative for FIV.  They have come a long way however they still suffer with diarrhea and upper respiratory due to their compromised immune systems. All are available to loving adoptive homes.  All care has been covered by Hundred Cat Foundation and Pets Come First.  Donations are welcomed!