The 8th Annual Dog Jog was a great event, thanks to the support of participants, sponsors, and volunteers!  The weather was a bit chilly, but that didn't stop everyone from having a wonderful day!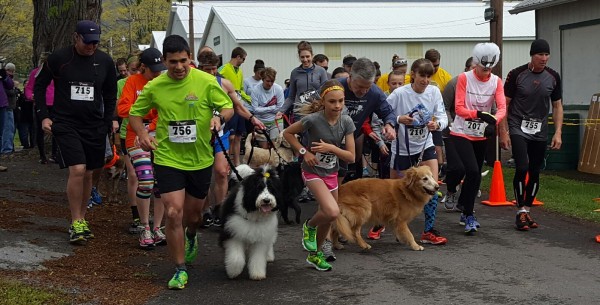 This is our largest annual fundraiser in the community, and often gives us an opportunity to see many adopted PCF dogs with their new families!  The Dog Jog is a wonderful example of how our community comes together to help make a difference one animal at a time.  Money was also raised through the Microchip Clinic and Silent Auction, as well as sales of food and t-shirts.  Shirts are still available for sale at the shelter!
Race results are now available!
We are extremely grateful to everyone involved!  THANK YOU for your support!
Top Dogs, Ball Bouncers, Lap Dogs, and Ankle Biters Sponsors who provided monetary contributions, advertisement, and goods or services.
SPECIAL THANKS TO MILESBURG LEGION FOR THEIR MEMORIAL DONATION IN MEMORY OF PETS COME FIRST SUPPORTER, LARRY PETERS.
Deb Warner, President of Pets Come First, for having a passion for animals and giving her heart and soul to the animals each and every day.
Dog Jog Committee who has spent the last few months of their time in planning this great event.
Grange Fair Grounds for their facility and working with us to make it a safe event.
David Mapes for timing the race.
Jamie Day for doing a fantastic job as our entertaining DJ.
Dr. Mary Ellen Sayre of Sayre Veterinary Acupuncture for assisting in the Microchip Clinic and being on-site in case of an emergency.
Centre Daily Times, StateCollege.com and The Gazette for helping to cover the event.
Our generous and talented photographer:  Sabine Carey of FreeRanging Photography.
All of the Rescues and Vendors who participated in our Pet Fair.
All of the Volunteers who make a difference. They give of their time and share with their families and friends the importance of giving back to their communities, by helping out at the Dog Jog event in all capacities, taking pictures, contacting sponsors, baking treats, and caring for our furry friends.