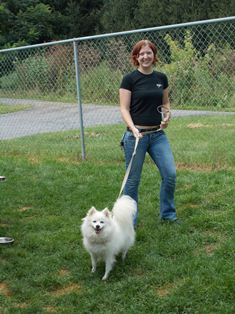 Stephanie Lang
Why do you enjoy volunteering?
I enjoy caring for the animals. They are very good at showing you that they appreciate your care and I've seen so many cat and dogs go to good homes over the last months.
Why did you choose PCF?
PCF gave me the opportunity to start up and grow with the shelter.
How long have you been a volunteer at PCF?
I started at the end of February 2012.
How long have you been involved with volunteering for an animal organization?
This is my first time consistently volunteering for an organization.
Do you volunteer for other groups?
Not regularly.
What have you learned about yourself while volunteering and giving back to your community?
I'm much more of a cat person than I thought I was. I've also enjoyed working directly with people from the surrounding areas from all walks of life and backgrounds.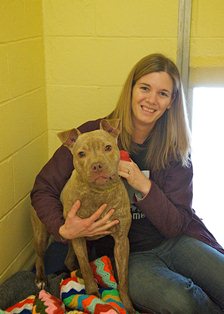 Melanie Gilbert
Why did you begin volunteering?
My volunteering with PSPCA/PCF started about 7 years ago with a young pit bull named Tara. Under the former shelter management (PSPCA), pit bulls could not be adopted to the public, so Tara's only hope of survival was to be adopted into a rescue. I contacted PCF and they helped me find another Pennsylvania rescue that accepted Tara into their program and eventually adopted her into a loving home. Since then, I spent a lot of time advocating for the pit bulls that came into the shelter, and when the PSPCA policy regarding pit bull adoption changed, helping them to find new homes. This breed – or rather, collection of breeds that are commonly referred to as pit bulls – is so misunderstood and maligned by the media.
While I enjoy spending time with all of the animals at the PCF shelter, the pit bulls there are always my priority. While I'm not a trainer, I have enough training knowledge to work on the basics: Sit, lay down, off, etc. I think it is important for the public to see pit bulls positively interacting with humans and other dogs in order to begin to reshape the overwhelming public opinion and negative bias that these dogs carry. Pit bull type dogs are some of the most loyal breeds out there, which is one of the reasons they are the breed of choice for dog fighters – they will do anything their owners ask. However, this loyalty is also why they make wonderful family pets, having formerly been known as "nanny dogs" because they are so good with children. Michael Vick's former fighting dogs are a perfect example of this; most of them are now pets in loving homes (even with other dogs) while some are even certified therapy dogs!
Do you volunteer at other organizations?
PCF was the first animal rescue that I've volunteered for, and remains the only organization that I'm officially affiliated with. Most of my volunteering time focuses on hands-on interaction with the animals while at the shelter. I'm not a regular foster home, though I do short-term foster occasionally, especially if the animal needs a little extra TLC, like Whitney, the emaciated pit bull that I fostered in Spring 2012. I also support other local and national rescue organizations by donating, sharing information, transporting animals, etc. An animal in need is an animal in need, regardless of which rescue it "belongs" to.
What has volunteering done for you?
I have learned so much about myself since I started to volunteer. In fact, volunteering for PCF has inspired me to return to school for a graduate degree in a community education field, and I hope to someday use that degree to help even more animals.